The conference will be held at Furama Hotel Dalian, in the center of the commercial, shopping, and entertainment area of Dalian. Furama Hotel Dalian is the first five-star deluxe hotel in Northern China. It is about 25 minutes from the airport and, within 10 minutes to the railway station by taxi, and 10 minutes walking to the ferry terminal.




Conference Venue Floor Planes
The room arrangements are:
Hall 1: Opening Ceremony, Plenary Session I, and Reception
Hall 2: Parallel Sessions
Hall 3: Parallel Sessions
Hall 4: Parallel Sessions
Hall 5: Parallel Sessions
Hall 6: Forums, Advanced Technologies from Industry, Plenary Sessions II, and Closing Ceremony
Registration Desk, Tours and Ticket Desk, and Information Desk

The western lobby on the first floor on July 13 and in front of Tianbofu Ballroom on the 2nd floor from July 14 to 16.

The information desk is also served as the speaker's lounge. COBEE 2008 staff members will help you with practical information, such as finding a restaurant, an interesting place to go, etc.

Poster Sessions

Furama Ball Room Foyer: Hallway of Furama Ball Room in front of Hall 1 and Hall 6.

Coffee and Tea Breaks

On the 2nd floor in front of Halls 3, 4, and 5.
ACCOMMODATION
The following hotels at or near to the conference venue have been blocked for COBEE 2008. Hotel reservation can be made together with the meeting registration.

Hotel

Room Type

Single

Twin

Deposit

Furama Hotel
(★★★★★)

Standard

US$150

US$150

US$150

Delight Hotel
(★★★★)

Standard


US$90

US$90

US$182

Lee Wan Business
(★★★★)

Standard

US$67

US$67

US$140

Friendship
(★★★)

Deluxe
US$65
US$65
US$130
* The rate is subject to change in 2008. The above information is only for reference. Updated information will be available in the registration form.
** Note: Due to the change of exchange rate between the US and Chinese currency (currently 1 USD = 7.00 RMB) since the second announcement (1 USD = 7.50 RMB at that time), hotel rates have to be adjusted for reservation later than Apr. 30, 2008.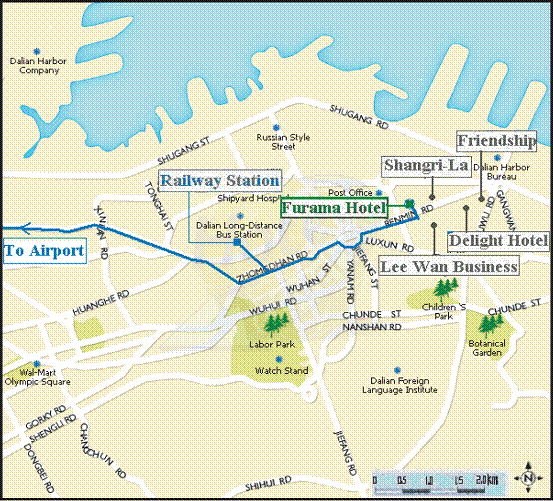 Map of Conference Venue and Accommodation

Information on DALIAN
Dalian is a charming city with blue sea, plenty of sunshine , beautifull and scaping , gourmet seafood, and friendly people . The city is known to many as "Home of Track and Field" and "City of Fashion". Dalian has many beautiful parks and contains attractive buildings demonstrating various unique and interesting architectural styles. For those that enjoy the ocean, the city's beaches are an ideal place to escape the summer heat. Other local attractions in Dalian include: Xinhai Park, Tiger Beach Park, Golden Pebble Beach Scenic Area, Fujia Village Tourist Center, the Museum of Natural Science, and many others. Dalian is also famous for its shell carving pictures and glassware. Exploring scenic spots and places of historic interest will help you to recharge following a busy day at the conference. At night, you can enjoy the city while observing the unique, urban lighting, strolling along the seaside to assess thermal comfort , and experiencing the air quality of the fresh sea breezes. A diverse selection of local restaurants offers delicious food and wine from various regions of China. Studying the impact of the local cuisine on your health is perfect practice for evaluating energy and environment.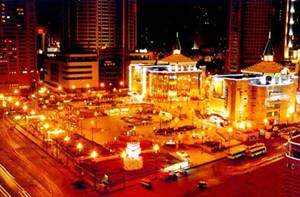 Dalian, located in a peninsular, is a flourishing coastal, beautiful port city with convenient land, water and air transportation. For example, Dalian has many direct flights from/to many of Asian countries and regions, such as Tokyo, Osaka, Seoul, and Hong Kong. Dalian has over 20 daily flights to Beijing, 14 daily flights to Shanghai, 5 daily flights to Guangzhou, and hundreds of flights to over 40 other domestic destinations.
The weather in Dalian is very pleasant, with summers that are not extremely hot and winters that are not too cold. The average temperature in Dalian is about 10oC (50oF). The temperature in mid July ranges from 19oC (66oF) to 30oC (86oF) with relative humidity from 62% to 66%. The fair weather ensures that Dalian receives a high ranking for outdoor thermal comfort. Due to the moderate summer temperatures, late May to middle September is the peak travel season in Dalian.